With the end of the year approaching, we all start to look out for fun activities to keep our kids engaged.
Christmas is a holiday that involves lots of special traditions and celebrations, including an exchange of gifts, caroling, eating gingerbread cookies and much more.
If you're looking for the best Christmas events in Singapore with which you can further immerse yourself in this joyous season, read on!
There are exciting activities available for families who want to get into the Christmas spirit. Get ready to have fun this Christmas with these awesome events.
Best Christmas Events in Singapore 
There's nothing like the joy of Christmas to bring families together. As the shopping frenzy for Christmas gifts begins, so does the excitement for Christmas events in Singapore.
From festive activities such as ice skating, watching the magical lights, or playing carnival games, you will not run out of ideas on how to enjoy this season with your kids.
Read on to find out more about the best Christmas events in Singapore and their locations so you can plan your schedule accordingly!
1. Experience the Festive and Magical Event of Christmas Wonderland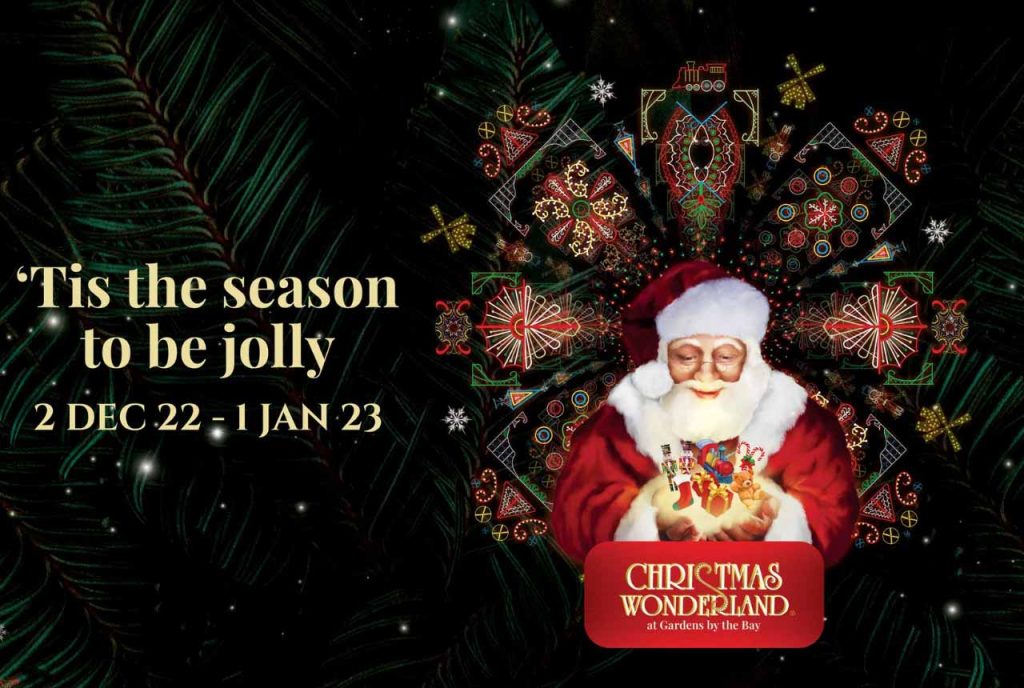 Source: Christmas Wonderland at Gardens by The Bay Facebook Page
Among the best Christmas event in Singapore that you should not miss is Singapore's Singapore Christmas. It has attracted over 4.8 million visitors since it started to bring joy to all people of all ages in 2014. This year, you can enjoy this festive season by visiting the Christmas Wonderland in Singapore from 2 December to 1 January 2023.
Enjoy exciting games, activities, and awe-inspiring light displays. Moreover, enjoy watching the iconic Supertrees of Garden by the Bay as they have been illuminated with magical lights that shimmer along with the famous Christmas songs. Also, be filled with amusement as you walk under the "walk of stars."
It is the best Christmas event in Singapore to bring your kids as you can enjoy a wide range of carnival games.
Santa's elves are still working on the best Christmas Wonderland in Singapore.
2 December 2022 – 1 January 2023
Gardens by the Bay 18 Marina Gardens Drive, Singapore 018953
2 December 2022 – 1 January 2023
Gardens by the Bay 18 Marina Gardens Drive, Singapore 018953
2. Enjoy Ice Skating and Experience a Winter wonderland
There is no better way to enjoy the holiday season than by skating on an ice rink. This is another Christmas event in Singapore that you should not miss.
Experience a winter wonderland at top ice-skating spots in Singapore. You may visit The Rink, Kallang Ice World, Bishan Park Skating Rink or Hi Roller Indoor Skating Rink.
Surround yourself, your family members, and your friends with the magic of winter wonderland and have fun on the ice.
Psst! Do not forget to wear your winter clothes to complete your winter wonderland experience.
Best Ice Skating Rinks in Singapore
Hi Roller Indoor Skating Rink
2 Jurong East Central 1, #03-11 JCube, Singapore 609731
5 Stadium Walk, Level 3, Singapore 397693
1380 Ang Mo Kio Ave 1, Singapore 569930
1 Pasir Ris Cl, Level 5 E!Hub, Singapore 519599
3. Never missed going to a European Christmas Fair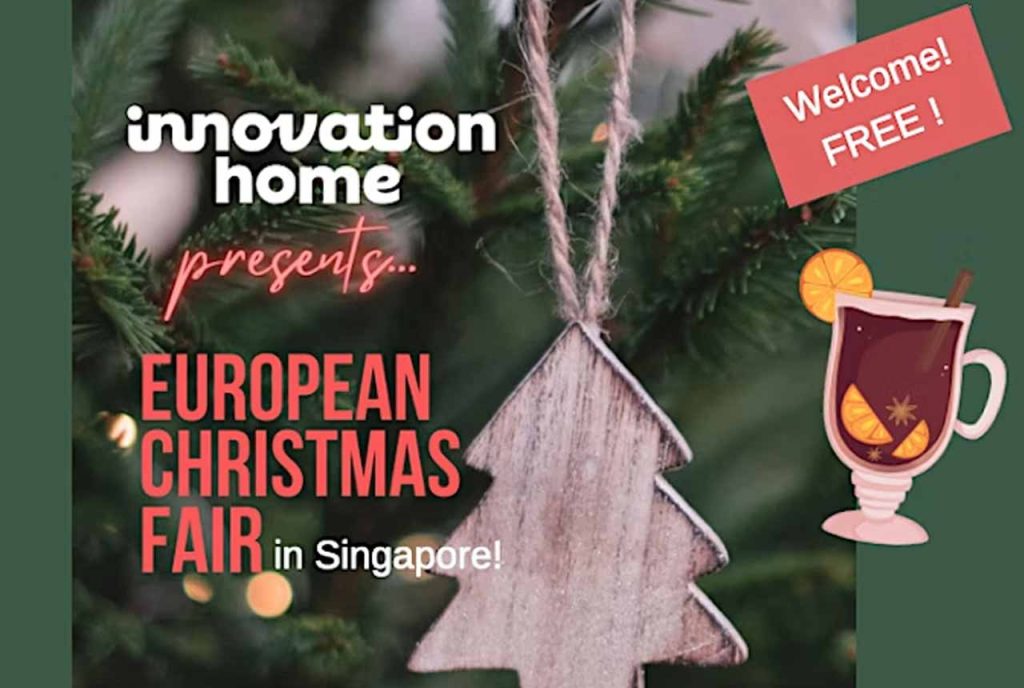 Source: Innovation Home Singapore
You can simply experience European Christmas markets vibes in Singapore with the European Christmas Fair (Xmas market) this coming 23 November 2022 from midday until 8pm.
At this fair enjoy the warm mulled wine and gingerbread. Moreover, enjoy shopping for your Christmas gifts as lots of European products are available.
This is free event, so make sure to reserve a spot.
HUONE Singapore | Meeting and Event Venue 3D River Valley Road ##03-01 Singapore, 179023 Singapore
4. Enjoy Holiday Shopping at the Festive Season Pop-up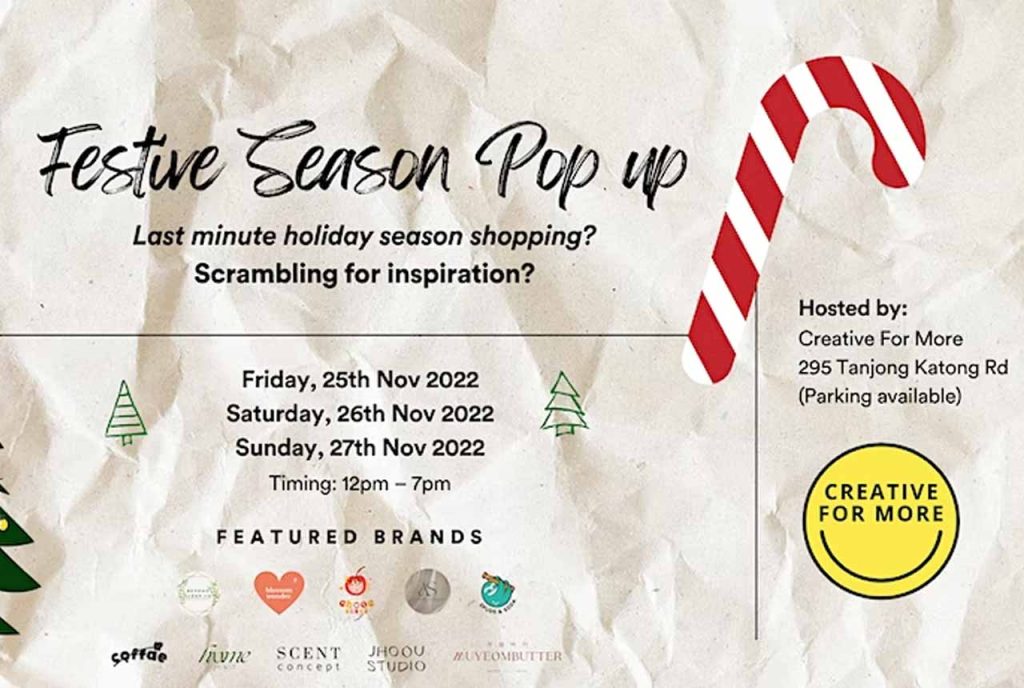 Source: Creative for More
Are you looking for Christmas gift ideas? You must go to the Festive Season Pop Up 2022. One of the most awaited holiday gift shopping event in Singapore.
There are over 10 small businesses taking part in this Christmas shopping event, so you will surely have a wide selection of Christmas gifts. You can choose from scented goods, handcrafted accessories and preserved floral arrangements.
Psst, this is free, so reserve a spot here.
25 November 2022
26 November 2022
27 November 2022
(from 12 – 7pm)
295 Tanjong Katong Rd 295 Tanjong Katong Road Singapore, 437078 Singapore
5. Celebrate Christmas on A Great Street
Source: Orchard Road Facebook
Enjoy the wonderful sight at the Orchard road as it is transformed into a Christmas Utopia starting 12 November till 2 January 2023.
Witness the community chest light-up ceremony on 12 November and see the dazzling lights along the Orchard road.
12 November 2022 – 2 January 2023
295 Tanjong Katong Rd 295 Tanjong Katong Road Singapore, 437078 Singapore
6. Have Fun Celebrating Christmas with a Ukulele Concert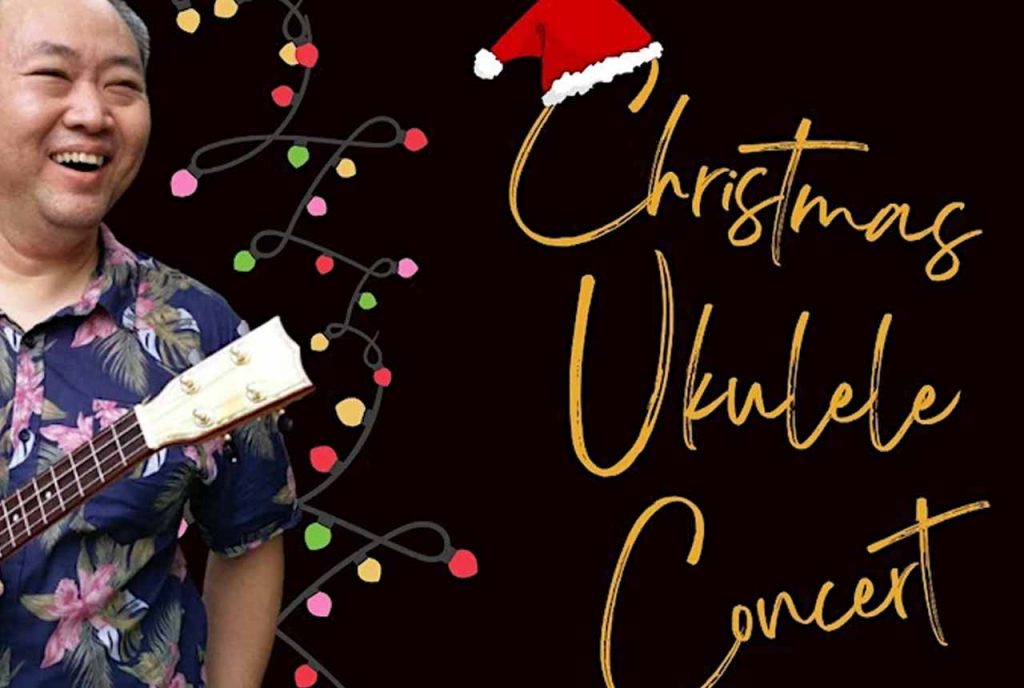 If you want to celebrate Christmas the unique way, you must experience this Ukulele Concert.
Celebrate the holidays by listening to the old favourites and newer tunes played in an Ukulele, led by musician Daniel Purnomo. This will surely bring an instant holiday vibe.
If you a fan of ukulele or playing any practical acoustic instruments, you may bring them along, so you can experience a jam session plus sing along at the end of the event.
Your ticket entitles you to a celebratory drink from the Old School bar (non-alcoholic or alcoholic).
Crane 46 Kim Yam Road 01-06 Herencia Singapore, 239351 Singapore
7. Book for a Festive Christmas Dinner or Lunch
Your Christmas can never be complete without booking for the best Christmas dinner in Singapore or eating from the best restaurants for Christmas lunch.
A festive Christmas dinner or lunch is a fantastic way to celebrate the festive season in Singapore. You can invite friends and family over for a sumptuous meal.
The menu should reflect the festive spirit, and there's no need to spend too much on expensive food and decorations. Instead, you can have fun with food and decorations, and have a festive time with your loved ones.
8. Check out the Year-end floral display with Seasons of Bloom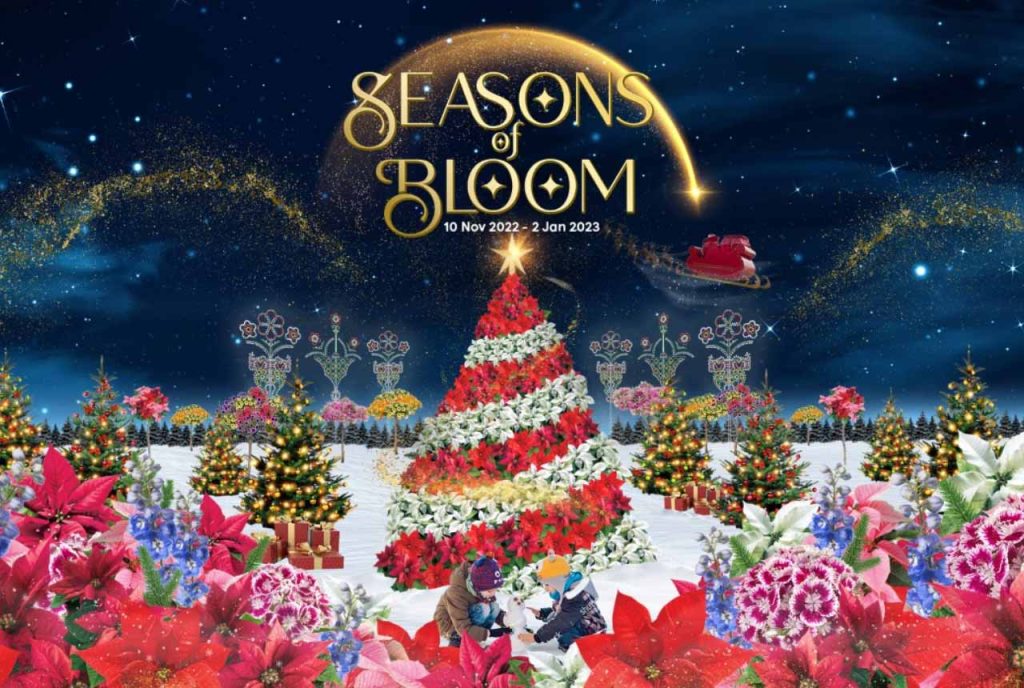 Source: Gardens by the Bay
Celebrate Christmas by visiting the Seasons of Blooms, a one-of-kind finale floral display at the Gardens by the Bay. It features various seasons of flowers that the Flower Dome highlights for over the past decades.
Enjoy the sight of colourful blooms from Snapdragons for spring, zinnias for autumn, cyclamens for winter and delphiniums for summer.
10 November 2022 – 2 January 2023 (09:00 am – 09:00 pm)
Flower Dome at the Gardens by the Bay
9. Experience the wonderful world of fun at Changi Festive Village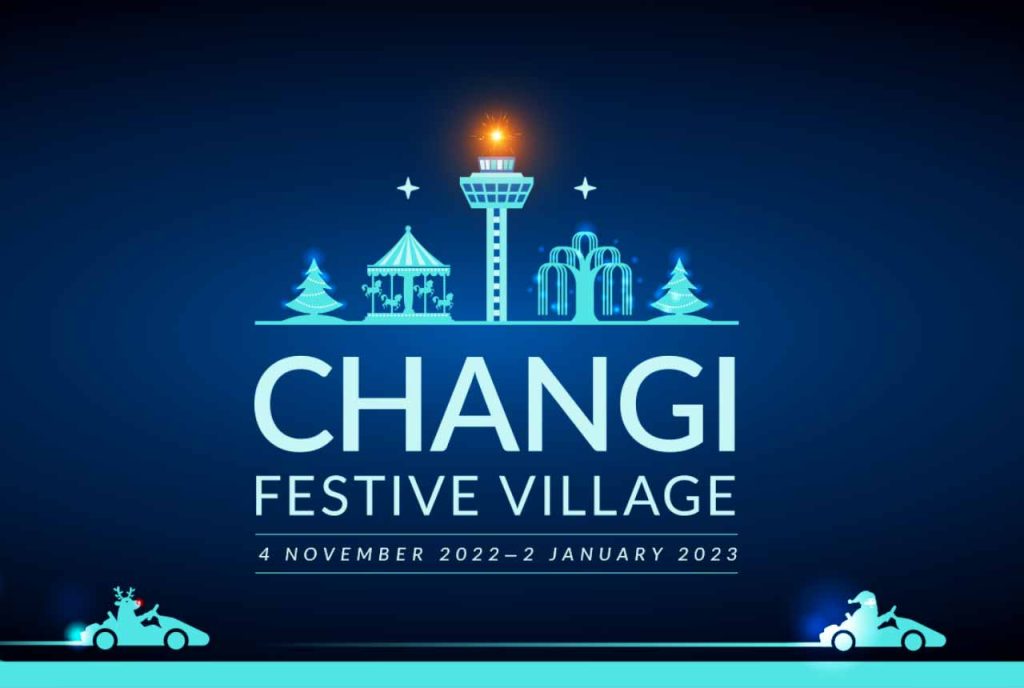 Source: Changi Airport Website
Discover a never-ending Christmas fun at Changi Christmas Village. Enjoy a fun-filled Christmas events perfect for the whole family.
Never missed the exciting fun-filled Terminal 3 (T3) Underground Carnival which has over 30 indoor rides, games booths and photo opportunities.
Moreover, get to experience a magical glamping night with the majestic sight of the HSBC Rain Vortex. Also, you can cycle or walk down Changi's longest ever-lit-up Jurassic Mile. Don't forget to check out also a one-of-a-kind Avatar themed activity.
Book this festive Christmas event by downloading the iChangi App.
4 November 2022 – 2 January 2023
10. Cherish fun-filled moments with A Universal Christmas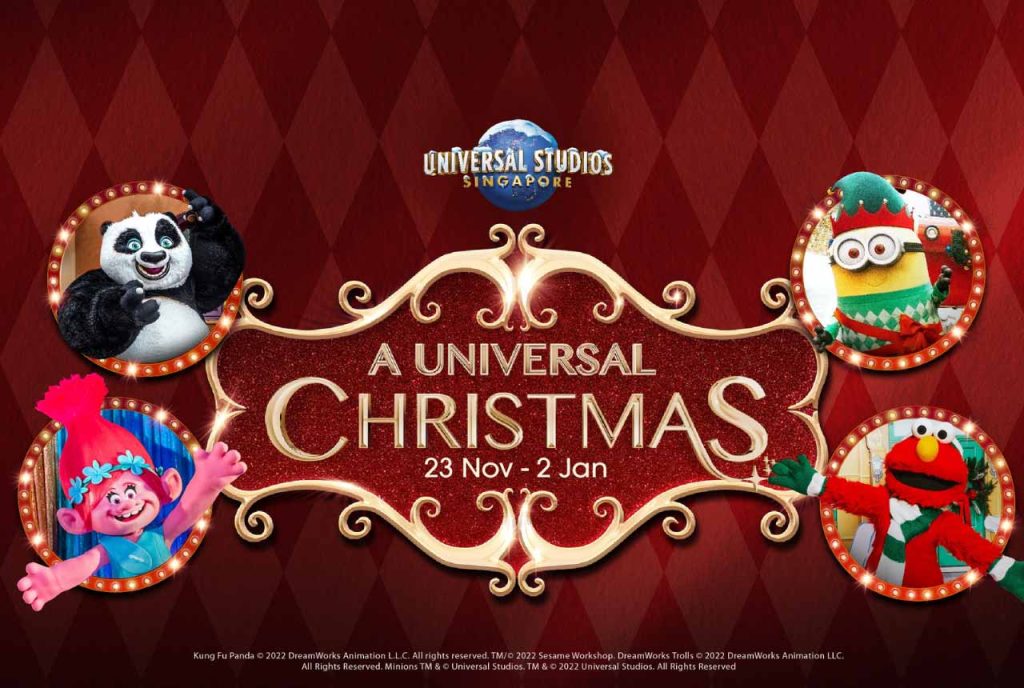 Source: Resorts World Sentosa
A Universal Christmas is among the most –awaited Christmas event in Singapore. Get to see the merriest grand parade that features over 42 performers led by Ringmaster Santa and get to see the breathtaking snowfall.
Also, the grand parade will be joined by Illumination's Minions, DreamWorks Animation's Po, Tigress, Poppy, Branch and watch the first time appearance of Gingy the Gingerbread Man from DreamWorks Animation's Shrek
Moreover, you can try-out extra fun-filled games at the Jolly Game Booths. Don't forget to treat yourself and loved ones with exclusive Christmas gifts!
Book Now and experience the Christmas magic with A Universal Christmas!
23 November 2022 – 2 January 2023
Get Ready for the Best Christmas Events in Singapore!
If you are looking to take the family out for Christmas, there's no better place to visit than Singapore.
Not only is it a beautiful country that's full of interesting sights and attractions, it's also one of the most culturally diverse countries in the world. So not only will your family enjoy a great holiday, they'll also learn a little bit about the world while they're there.
There are several ways to celebrate Christmas in Singapore. You can go to the most exciting annual Christmas wonderland, enjoy a winter wonderland while ice skating and a lot more.
One thing for sure, there's never a dull moment when you celebrate your holidays and experience the best Christmas events in Singapore.
Header Image Source: Christmas Wonderland at Gardens by The Bay Facebook Page
(Visited 593 times, 1 visits today)