Singapore National Day 2023: What to Expect?
Singapore National Day 2023: What to Expect?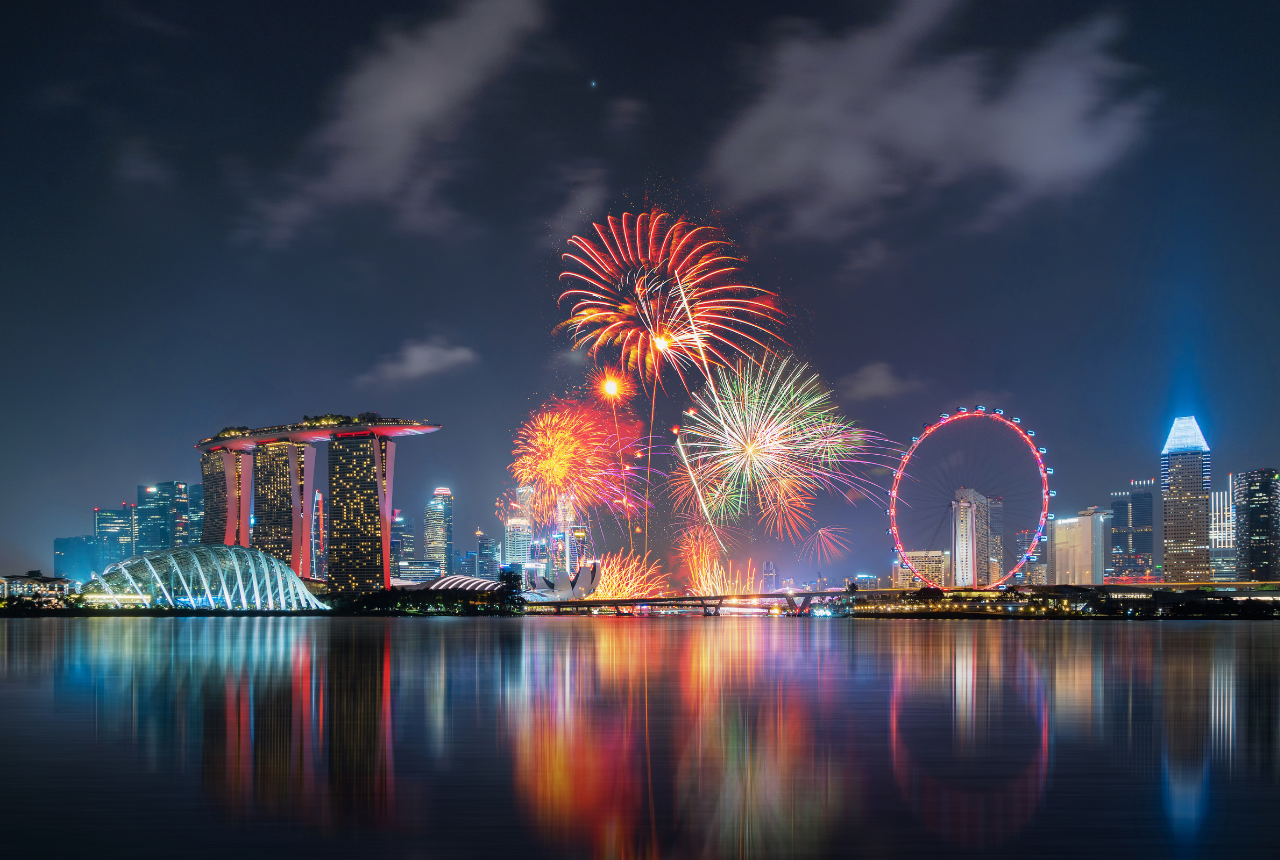 Are you excited to celebrate our independence and join the iconic parade, exciting events and fireworks? I bet all of us can't wait to join the iconic National Day Parade this 9 August. This year the iconic National Day parade will be held at Padang since the Marina Bay floating platform is under construction.
This year's theme "Onward As One" urges Singaporeans to look forward to the future with confidence and build a shared future together as united people.
As we countdown for the upcoming National Day Parade and exciting events, we've prepared a go-to guide on what you can expect during the National Day 2023.
Significance of the Theme: Celebrating Unity
Singapore National Day 2023's theme, " Onward As One", calls Singaporeans to look forward confidently move onward together and build a shared future as one united people.
"Onward" encourages Singaporeans to keep going despite whatever difficulties they may face in the future.
While "As One" emphasises the value of unity to Singaporeans.
The "Onward As One" theme in Singapore promotes cooperation in order to move forward and create a common future for all people.
What To Expect for Singapore National Day 2023?
Parades, celebrations, and performances mark Singapore National Day. Here are the activities you can expect for Singapore National Day 2023: 
National Day Parade at the Padang
Singapore's National Day Parade (NDP) celebrates the nation's independence and cultural heritage on 9 August. It unites individuals from all backgrounds to watch the stunning exhibition of patriotism and national pride. 
The State Flag Flypast and Presidential Gun Salute are popular parade and ceremony highlights. The State Flag Flypast is a group of military aircraft flying across the sky in Singaporean flag colours. The Presidential Gun Salute honours the nation's highest office and starts the festivities. 
The RSAF55 Aerial Display, representing the Republic of Singapore Air Force (RSAF), is one of the NDP's most exhilarating events. Skilled pilots accomplish breathtaking manoeuvres, precise piloting, and aerial feats. It shows Singapore's defence and sky protection commitment. 
The NDP showcases Singapore's multicultural diversity as well as military might. It exhibits ethnic groups' vivid cultural performances, traditional dances, and musical showcases, displaying the nation's multiethnic harmony. 
National Day at the Heartlands
Singapore's independence is celebrated during National Day at the Heartlands. GetActive! Singapore Heartland Festivals offer a weekend of fun, fellowship, and community activities that build national pride. 
These festivals allow Singaporeans from all over the island to enjoy a variety of fun activities at Bedok Stadium, Jurong West Stadium, Toa Payoh Stadium, Woodlands Stadium (5-6 August), and Tampines Hub (6 August). 
The celebrations include activities and programmes for all ages and interests. Everyone may enjoy sports, cultural, and interactive events. Sports, creative activities, and cultural events may bring families together. 
The Heartland Festival's fireworks show is another highlight on 9 August. All five heartland areas will be illuminated by this spectacular show, spreading National Day happiness throughout Singapore. The vibrant colours and patterns symbolise national unity and power. 
Get Active! Singapore Heartland Festivals celebrate National Day and foster community. It's a time to exchange tales, make memories, and establish neighbourhood relationships. 
National Day Rally
The Singapore Prime Minister addresses the National Day Rally annually. The Prime Minister addresses the country and outlines the government's aims for the year. The address usually covers economic, social, and international policy. 
Singaporeans anxiously await Prime Minister Lee Hsien Loong's National Day Rally 2023 address on 20 August. This yearly speech establishes the country's direction and goals for the year. 
ITE College Central in Ang Mo Kio will hold the National Day Rally. The venue's state-of-the-art amenities and dedication to technical education exemplify Singapore's commitment to training the workforce. 
Fireworks Display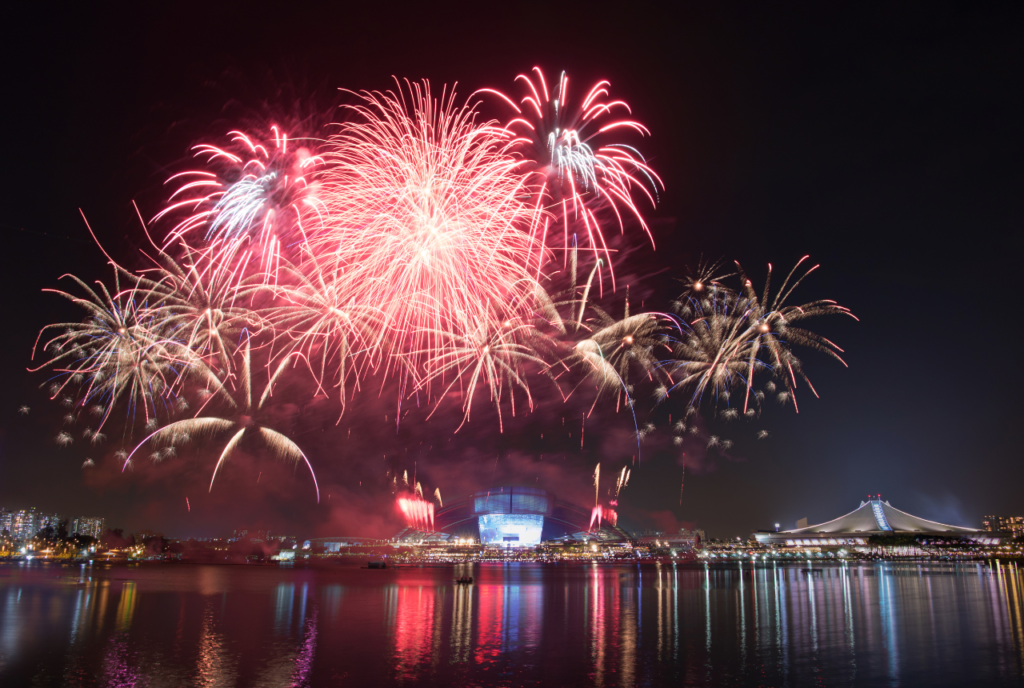 Singapore's National Day isn't complete without fireworks. The Marina Bay fireworks display is visible from many downtown locations. These fireworks show are stunning. 
Cultural Performances
National Day performances represent Singapore's multiculturalism. Chinese lion dances, Malay dikir barat, and Indian bhangra exhibit Singapore's rich culture. The performances at city community centres and cultural hubs showcase Singapore's cultural variety. 
Community Events
Community groups and grassroots organisations organise National Day celebrations. Carnivals, fairs, and sports tournaments allow Singaporeans to celebrate their nation. 
National Day Funpack
Singaporeans receive a National Day Funpack with treats and memorabilia before National Day. Singaporeans exhibit their pride by buying Funpacks with flags, hats, and food. 
Singapore National Day Tips
These ideas can help you enjoy Singapore's National Day: 
Plan Ahead
Many Singaporean National Day festivities are crowded. If possible, book your tickets early. 
Dress for the Occasion
Wear red and white, Singapore's national colours, on National Day to demonstrate your patriotism. 
Stay Hydrated
National Day events are long and hot, so carry plenty of water. 
Respect Singaporean Culture
Singapore is multicultural, so respect its customs. Dress appropriately for cultural performances and be conscious of religious or cultural sensitivities. 
Enjoy the Festivities
Enjoy the events and atmosphere on National Day. National Day is unforgettable whether you're watching the parade, a cultural show, or fireworks. 
Conclusion
In conclusion, Singapore National Day is a time for the people of Singapore to come together and celebrate their shared identity, values, and culture. The day holds great significance as a reminder of the journey towards independence and the progress and prosperity that has been achieved since then.  
National Day events exhibit Singapore's diverse cultures and traditions. National Day celebrations include the National Day Parade, community events, and cultural performances. As we look towards the future, Singapore National Day serves as a reminder of the country's resilience, determination, and commitment to building a better and brighter future for all its citizens. 
Read Also: Total Defence Day in Singapore : What You Need to Know?