One Love Asia Festival in Singapore (2023)
One Love Asia Festival in Singapore (2023)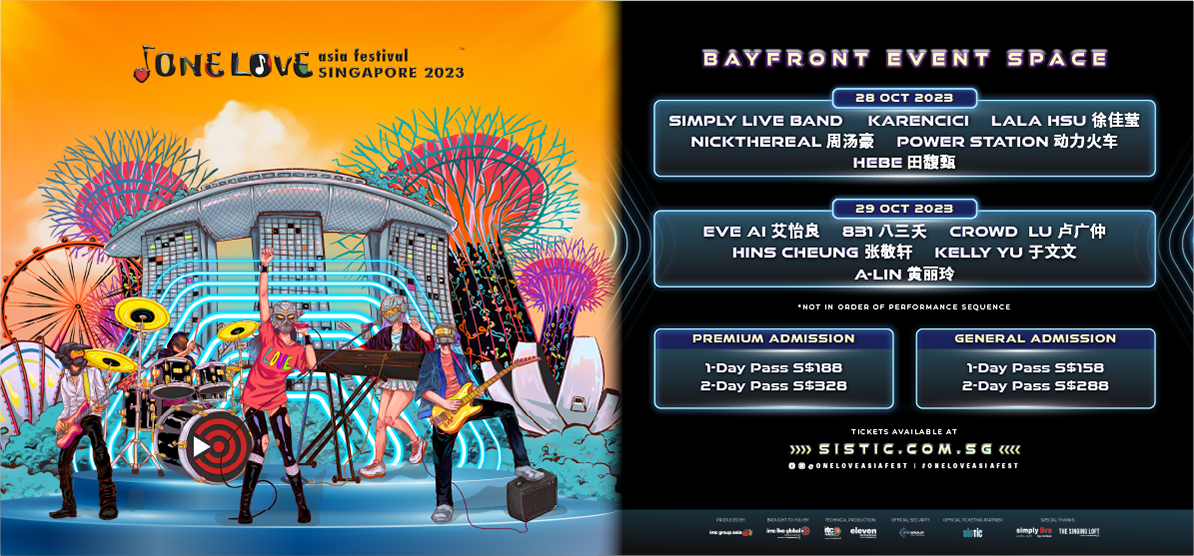 The One Love Asia Festival showcases talented artists and cultural fusion against Singapore's skyline. This year's star-studded Asian artists, bands, and performers will take you on a musical journey beyond borders.
Catching melodies, exhilarating rhythms, and soul-stirring performances will grace the stage. You'll rarely get to explore Asian music's diverse genres, dialects, and customs.
More than music, the One Love Asia Festival promotes unity, friendship, and music's unifying power. Join us at this unforgettable event for world-class entertainment and a global community of love and diversity.
Plan ahead for something unique. We celebrate originality and passion of music at the Singapore 2023 One passion Asia Festival.
The stunning Bayfront Event Space in Singapore will host the One Love Asia Festival for a weekend of memorable entertainment.
| What | When | Where |
| --- | --- | --- |
| One Love Asia Festival | 28 October (Saturday) – 29 October (Sunday) 2023 | Bayfront Event Space, 12A Bayfront Ave, Singapore 018970 |
What
One Love Asia Festival
When
28 October (Saturday) – 29 October
(Sunday) 2023
Where
Bayfront Event Space, 12A Bayfront
Ave, Singapore 018970
What to Watch Out for One Love Asia Festival 2023?
A two-day musical spectacular, the One Love Asia Festival features both worldwide superstars and upcoming singers. Headliners include Hebe Tien, whose melodies have captivated audiences worldwide, and Lala Hsu, who won Best Female Singer at the Taiwan Golden Melody Awards. A-Lin, the beloved singer-songwriter whose melodies have touched hearts worldwide, joins this stunning lineup.
Karencici's exciting performance and NICKTHEREAL's thrilling sounds will add to the excitement. Rock fans will love Taiwanese rock sensation Power Station and 831's genre-defying tunes.
Crowd Lu, Hins Cheung, and Kelly Yu are outstanding singers that will captivate audiences with their talent. Simply Live Band and Eve Ai will kick off this musical spectacular, setting the tone for a memorable weekend of music and fun.
World-Class Lineup: The festival is renowned for its star-studded lineup, featuring top-notch artists from Asia and beyond. Expect to be mesmerized by a wide range of music genres, from pop and rock to hip-hop and electronic dance music. The diverse musical offerings ensure that there's something for everyone.
Cultural Experiences: In addition to the incredible music, the festival offers a plethora of cultural experiences. Visitors can explore Asian cuisine at food stalls offering delicious dishes from different countries, shop for unique crafts and souvenirs at marketplaces, and even take part in cultural workshops.
A Stunning Venue: The Bayfront Event Space provides a picturesque setting for the festival. Nestled amidst Singapore's iconic skyline and Marina Bay Sands, attendees can enjoy the music against the backdrop of the city's shimmering lights and stunning waterfront views.
Family-Friendly: The One Love Asia Festival is a family-friendly event, making it an excellent outing for people of all ages. There are designated areas for children's activities and family fun, ensuring that everyone can participate in the festivities.
Community and Charity: Beyond music and culture, the festival is committed to giving back to the community. Various charitable initiatives and partnerships aim to make a positive impact on society, further emphasizing the message of unity and love.
How to Buy Tickets for One Love Asia Festival?
Tickets for the One Love Asia Festival Singapore 2023 can be purchased online through the official festival website or authorized ticketing partners. The event offers different ticket categories, including single-day passes and two-day passes, allowing attendees to choose the option that best suits their preferences. Ticket ranges from S$158 – S$328.
Buy your tickets here.
Conclusion
The One Love Asia Festival Singapore 2023 promises to be a vibrant and unforgettable celebration of music, culture, and unity. With its world-class lineup, cultural experiences, stunning venue, and family-friendly atmosphere, it's an event that should not be missed.
Mark your calendars for 28-29 October, and get ready to be part of a musical extravaganza that transcends borders and celebrates the beauty of Asia's diverse cultures. One Love, one festival, one unforgettable experience.