Asia's biggest cocktail party is back! This is a celebration you don't want to miss, with the largest Festival Village yet at Bayfront Event Space and a 17-day programme jam-packed with thrilling events.
Cocktail connoisseurs from all over the world are looking forward with great anticipation to the Singapore Cocktail Festival 2023. Mixologists, bartenders, and people who are passionate about cocktails come from all over the world to attend this festival since it is one of the most important events that takes place in the beverages business.
The festival is renowned for its one-of-a-kind and forward-thinking themes, as well as its extensive selection of alcoholic beverages and non-alcoholic activities.
The festival, which is currently in its ninth iteration, is expected to be larger and better than it has ever been, with a complete in-person roster running from May 5 to May 21. The phrase "Shaking Up New Possibilities" is a fantastic choice for a theme since it perfectly represents the innovative and dynamic attitude that permeates the beverage business.
Attendees can anticipate an exciting spectrum of new beverages, methods, and ideas because of this topic.
During the Singapore Cocktail Festival 2023, you will have the perfect opportunity to explore new possibilities in the world of beverages and cocktails, regardless matter whether you are a seasoned cocktail expert or a curious newbie.
This event will take place in 2023. This festival is an opportunity that should not be passed up because it features a wide variety of events and activities. Make sure to circle the date on your calendars and get ready for an event that will live long in the memory.
Explore More About Singapore Cocktail Festival 2023
Singapore Cocktail Festival 
Bayfront Event Space, 12A Bayfront Avenue, Singapore 018970
What to expect at Singapore Cocktail Festival 2023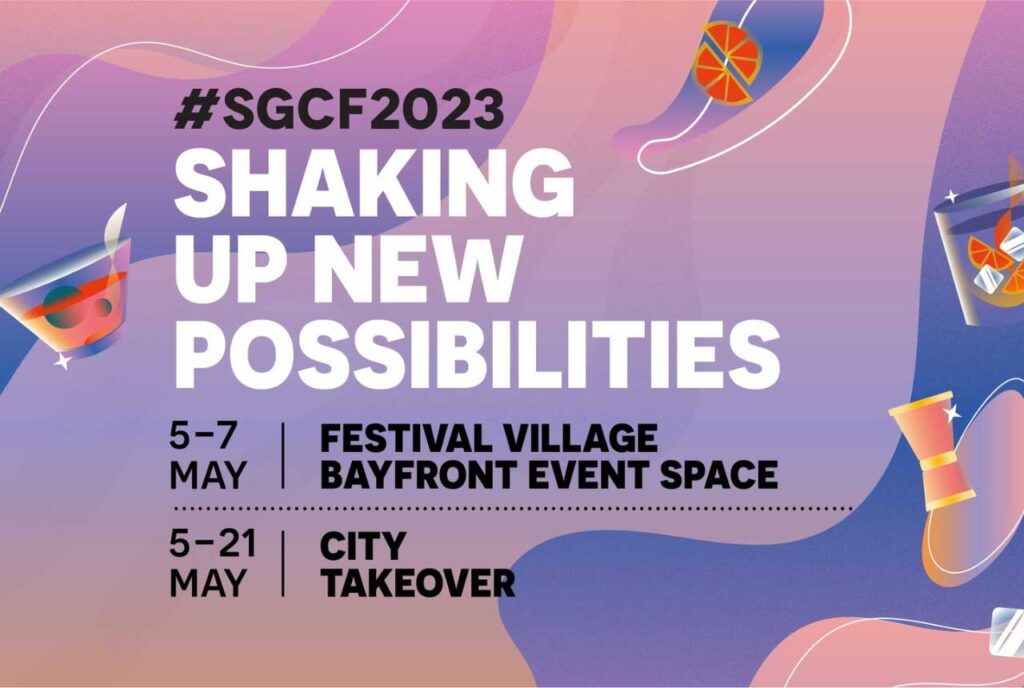 Singapore Cocktail Festival 2023 is back and promises to be bigger and better than ever before! Here's what you can expect from this highly anticipated event:
Festival Village: The Festival Village at Bayfront Event Space will be the centre of the event and featuring over 45 of Singapore's best cocktail bars, food stalls, and live entertainment. Located adjacent to Marina Bay Sands (MBS), the Festival Village offers a stunning backdrop of Singapore's city skyline and promises an exciting cocktail experience. The Village offers brand pop-ups, artisanal spirits, food street, music, and almost 100 drinks. Enjoy the greatest beverages and entertainment in a lively and colourful setting!
City Takeover: During the 17-day calendar, you'll have the opportunity to explore limited edition specialty cocktails served across 45 of Singapore's best bars, providing a unique opportunity to discover new and innovative cocktail trends.
Bar Takeovers: Internationally renowned bars from places like Australia, Hong Kong, India, the Philippines, Taiwan, and Thailand will take over neighbourhood bars to demonstrate their skills and serve their specialty cocktails.
Masterclasses: Learn from the best in the business with a range of masterclasses and workshops conducted by world-class bartenders, mixologists, and spirits experts.
Tastings: Sample a wide range of cocktails and spirits from around the world, and discover new and innovative cocktail trends.
Special Events: Don't miss out on the special events happening throughout the festival, including pop-up bars, guest shifts, and exclusive parties.
Get ready to immerse yourself in the world of cocktails at Singapore Cocktail Festival 2023 and experience a celebration like no other!
How to Join Singapore Cocktail Festival 2023
Entering the Singapore Cocktail Festival 2023 is simple:
Purchase your festival passes at the Chope which you can access here.
Choose your Festival Village pass (in the Select Voucher section) and simply click on "Buy Now" to make your purchase.
After your purchase, a confirmation of your Festival Village pass will be sent to you via email and also through the Chope App under "Profile" and "My Vouchers". You will receive a digital QR code ticket, which you can use to access the festival village.
At the entrance of the festival, present your voucher or QR code ticket to redeem your entry.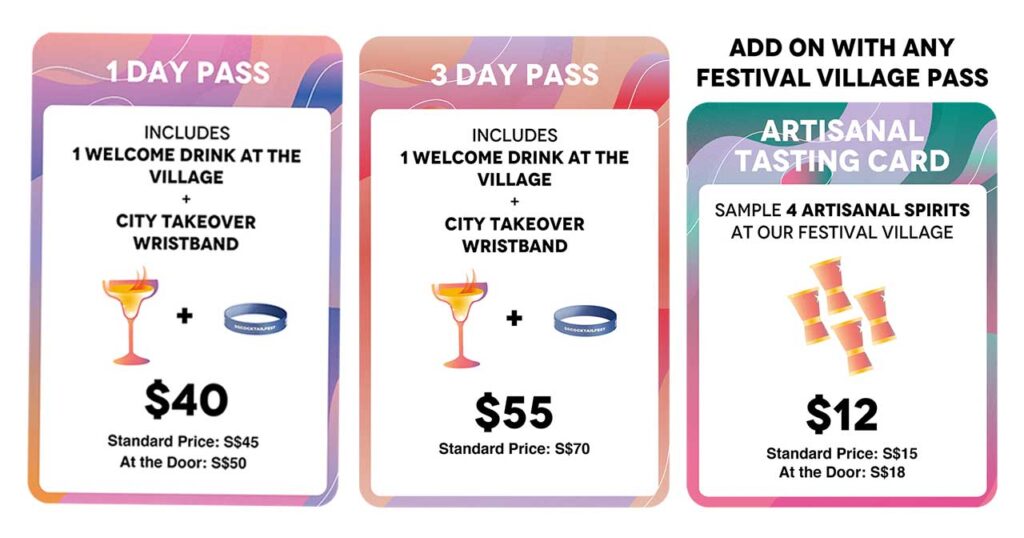 Whether you opt for a single-day or 3-day Festival Village pass, you'll get entry for one person, a welcome drink, and a City Takeover wristband – all included in the pass.
Additionally, the Artisanal Spirit Tasting cards come with 4 sampling shots that can be enjoyed in the Artisanal Tasting Room located within the Festival Village. Don't miss out on this opportunity to explore and taste some of the finest spirits from around the world!
Early passes are on sale now until 31 March
Don't miss out on the chance to save big on Singapore Cocktail Festival 2023! Early passes are on sale now and available for purchase until 31 March.
Take advantage of the limited time offer to enjoy discounted prices on Festival Village passes and other festival events.
This is the perfect opportunity to plan your ultimate cocktail experience and get the best value for your money. Grab your early passes now and get ready to indulge in 17 days of exciting and immersive cocktail festivities.
Read also: HSBC Singapore Rugby Sevens (2023) Returns at the National Stadium
(Visited 105 times, 1 visits today)