Chinese New Year in Singapore 2023
Chinese New Year in Singapore 2023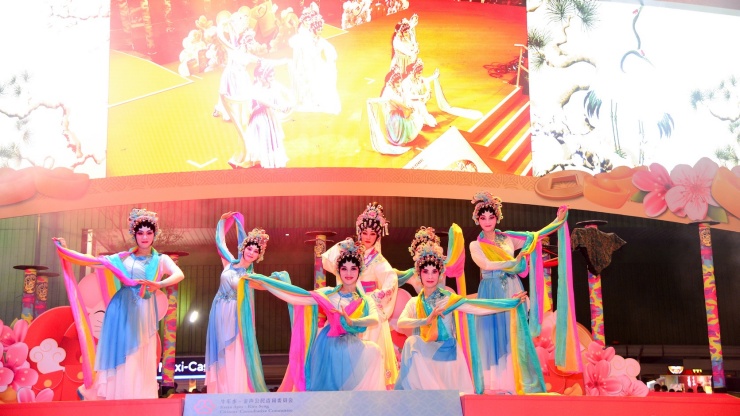 Let's celebrate Chinese New Year in Singapore
Chinese New Year, also known as Lunar New Year or the Spring Festival, is a time to celebrate the start of a new year and honour our ancestors. Chinese New Year, or the Year of the Rabbit, will be observed starting on 22 January 2023. It is one of the most important dates in the Chinese calendar.
Typically, when we consider Chinese New Year celebrations, we see fireworks, red envelopes containing gifts, and specialty foods. What other ways do people celebrate, though?
With a population made up of many different ethnic groups from across the world, Singapore is one of the most ethnically diverse nations in Asia. Singaporeans celebrate Chinese New Year in their unique way including a tradition of reunion dinner, fireworks, parades and performances.
Depending on where you live or who you are celebrating with, there are a variety of methods to celebrate Chinese New Year.
Even if this year's festivities are a little more subdued, you can still get into the holiday spirit by attending a variety of fun events taking place all across the island. Find your own creative ways to celebrate the season when friends and local relatives get together, trade Mandarin oranges, and safely eat holiday fare.
What
When
Where
Chinese New Year 2023
Chinese New Year's Eve on 21 January 2023
Chinese New Year's Day on 22 January 2023
Multiple locations that include/ All Around Singapore, Singapore
Discover more about Chinese New Year:
What You Can Do During Chinese New Year Celebration in Singapore?
Take part with the unforgettable celebration
There are various ways to enjoy the festivities during the Chinese New Year in Singapore. You may visit the historic neighbourhood of Chinatown to be in the middle of the celebration.
Also, check out the Street Light-Up to see the district's streets decked with exquisitely crafted lanterns before and during the Chinese New Year.
There will be an official light-up and opening ceremony where attendees can expect a multisensory extravaganza. There are also vendors offering a variety of snacks and traditional goods, both offline and online. Visit the Chinatown Festivals Facebook page and Instagram to access a variety of online activities.
Celebrate Chinese New Year with Iconic River Hongbao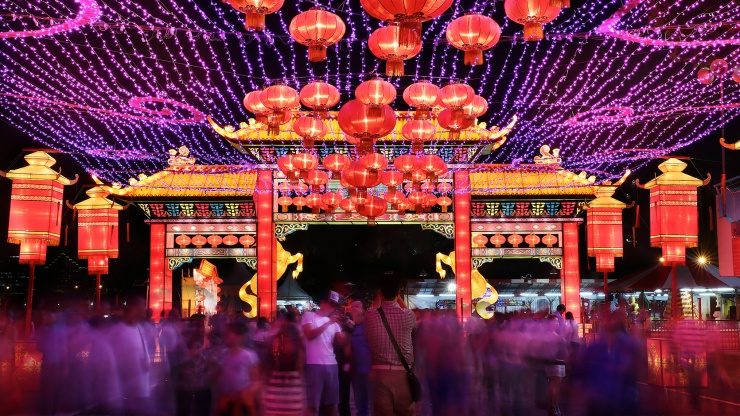 Watch amazing performances and experience exciting amusement rides with River Hongbao. This is an integral part of the Chinese New Year celebration in Singapore held at Gardens By the Bay. It's an iconic celebration for locals and tourists.
You will also be surprised with gigantic lanterns, such as the God of Fortune at the Supertree Grove, a set of 12 Zodiac lanterns, and an interactive lantern with a musical theme.
Immerse yourself in the colourful traditions, custom and belief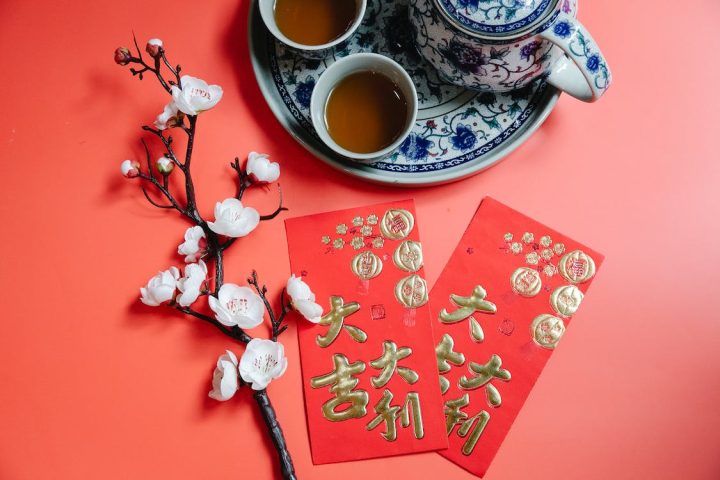 Red is undeniably the hue that best depicts the Chinese New Year. You can see it in the vibrant colours of the people's brand-new apparel, as well as in the crimson paper packets loaded with cash that are presented to children and younger relatives. You can also see it in the scarlet paper packets that are packed with candy.
Moreover, you'll see it in homes all across Singapore that have been meticulously spring-cleaned and are adorned with traces of scarlet everywhere you look. Some examples of this include lanterns strung by gates, spring couplets decorating doors, and brilliant ribbons adorning kumquat bushes, the yellow fruit of which symbolizes "gold" or prosperous times.
Enjoy a Sumptuous Chinese New Year Feast with Your Family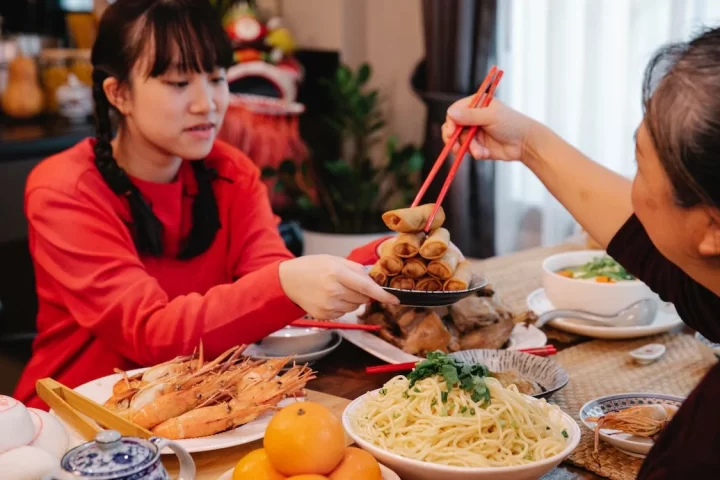 Chinese New Year is a family and home holiday, thus gatherings are the most essential part of this event.
This is especially true for the New Year's Eve reunion dinner. Families travel home to enjoy the festive dinner.
The days that follow are spent visiting family and friends, wishing them well, and spending time with those you care about.
Read Also: 7 Best New Year Events at the Marina Bay Singapore Countdown
Lighting off the firecrackers
According to the Chinese folklore that has been passed down through the generations, a monster known as "Nian" would terrorize the people every spring.
The only thing that had a chance of driving it away was anything red or really loud. For this reason, it has been a tradition to light off firecrackers while the ritual is taking place to frighten away the beast.
A Look Back at Chinese New Year 2022
Here's some of the Events from Chinese New Year 2022:
Official Light-Up and Opening Ceremony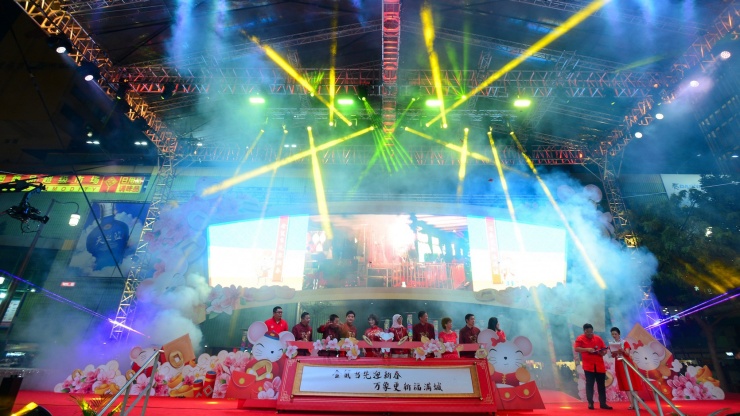 Source: VisitSingapore.com
The opening ceremony took place on 7 January 2022 and was livestreamed on Facebook and YouTube.
Street Light-Up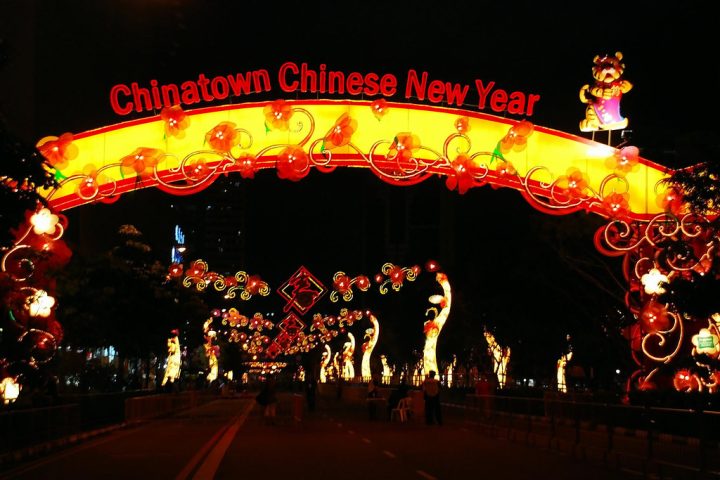 Chinatown in Singapore was decked up with a variety of hand-crafted lanterns by students of the Singapore University of Technology and Design to commemorate the year of the Tiger. The lanterns could be found along New Bridge Road, Eu Tong Sen Street, and South Bridge Road.
Chinatown Wishing Tree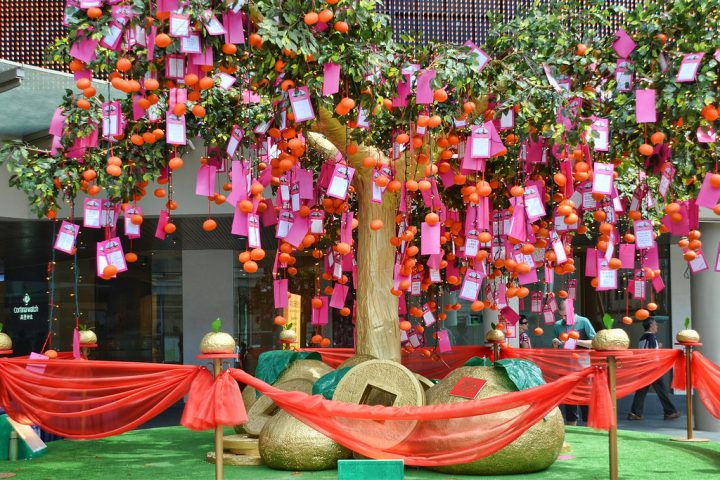 Visitors are encouraged to jot down their well-wishes on the "Make a Wish" cards that are displayed on the "Chinatown Wishing Tree" in the Chinatown Point Atrium. A minimum gift of S$2 will be required for each card, and all of the revenues will be donated to the Kreta Ayer – Kim Seng Community Development Welfare Fund. This fund supports neighborhood projects that aim to assist low-income individuals and families as well as senior persons in need.
Chinatown Chinese New Year Walking Trail
The Chinatown Chinese New Year Walking Trail provides you with the means to self-navigate your way through the numerous traditional New Year's activities held throughout Chinatown.
The Chinatown Chinese New Year Walking Trail offered by the Everyday Tour Company is an excellent opportunity to take in the beautiful street light-up, view the Temenggong Tiger Sculptures Display, and gain insight into the local traditions and history of the area.
Online Chinese New Year activities, contests and giveaways
On the Facebook and Instagram profiles for the Chinatown Festivals, a wide variety of events, contests, and giveaways are announced and publicized.
All participants have the possibility to win prizes in the form of vouchers for their participation in the event.
Adopt a Lantern
After the Chinatown Chinese New Year Celebration Street light-up, you will have the opportunity to take home one or more recycled lanterns for free as part of an effort to promote environmental stewardship.
World Wide Fund for Nature (WWF) Singapore and Temenggong Tiger Sculptures Display
It was a collaborative effort between the Temenggong Artists in Residence and the Chinatown Festival Organizing Committee to paint a variety of tiger sculptures. The sculptures are dispersed all across Chinatown for everyone to see.
Read Also: Singapore Art Week: What You Need to Know
Header Image Source: VisitSingapore.com